Chartwell Games offer four excellent, realistic blackjack variations.
Chartwell blackjack games:
Chartwell's programmers have included lots of features to make their game rules very realistic. For instance, they are unusual in including the 'even money' offer that you sometimes see in land casinos. If the dealer's up card is an Ace and the player has a blackjack, the player is offered 'even money'.
Chartwell Games casinos offer four blackjack options (click the names to find out more):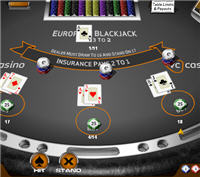 [post2post id="151″]
[post2post id="152″]
[post2post id="153″]
[post2post id="154″]
Chartwell Games have been developing casino software since 1998, and also produce very attractive poker and bingo games as well. Although the number of casinos using this software is relatively small, they have solid, well-known brand names amongst their licensees.
Software format: download and non download games
Where to Play Chartwell Blackjack Games:
Please note that the casinos change over time, and it is possible some of these may no longer be operating.
For more about any of these casinos, check out our page.