Kismet casinos are big on Blackjack and often run Blackjack Tournaments. There are 7 different Blackjack games all with very generous payback, especially Single Deck Blackjack.
Blackjack game choices
NB the casinos in this group can vary their own rules, for instance the rules at Harrods are less generous than at Red Lounge, so check where you are playing.
£1 minimum per hand on most games.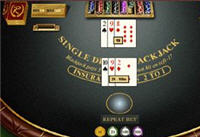 Single Deck Blackjack:  Has house edge of just 0.04%. The only drawback is the minimum hand is £10 on this game.
Asian Blackjack: The house edge on this one is 0.22%. Six decks are used.
Ties Win Blackjack: This game is unique to Kismet. All ties pay 1:2.  Winning blackjack pays even money.  Single deck. House edge is 0.25%.
Double Exposure: Six decks. Both dealer cards are dealt face-up. House edge is 0.26%.
Multi-Hand Blackjack: Four decks.  The house edge is 0.28%.
Fantastic Fun 21: Single deck game.  Dealer stands on soft 17, so the house edge is lower than normal for this game at 0.75%.
Spanish Blackjack: Six "Spanish" decks. Dealer hits soft 17. Redouble allowed. House edge of 0.38%. For more information on this game click here
Where to Play Kismet Blackjack Games:
Please note that the casinos change over time, and it is possible some of these may no longer be operating.
For more about any of these casinos, check out our page.