Blackjack Switch is an exciting Blackjack variation, with a low house edge and a optional Super Match side bet.
Blackjack Switch is found at casinos running on Playtech software.
This game has the best house edge of the Playtech blackjack games at 0.17%.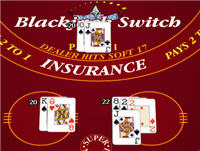 Single & Multi-Player table options are available.
The game includes the Super Match optional side bet: The Super bet wins if your initial 4 cards contain 2 or more matching cards.
Blackjack Switch Rules:
You have two hands, which you play in turn, so must make two bets of equal size.
Prior to any hits, you may Switch the top cards of your two hands.
Dealer will peek for blackjack with an ace or ten up. If the dealer has a blackjack all player hands will immediately lose, except a player blackjack will push.
Blackjacks pay 1/1 instead of 3/2 – although more 'Blackjacks' are created due to the 'switching' option.
Dealer always hits soft 17.
If the player doubles and the dealer's first card is of value 10, and the dealer gets blackjack, the player loses both bets.
Push 22: Dealer will "push" on a total of 22 (except 'Blackjacks' will still win).
6 decks. After each round, used cards are returned to the deck and the deck is shuffled.
If the dealer has an ace as his up card, players are offered insurance.
If you Split two aces, you receive only one additional card for each ace.
The player may not resplit.
Player may double on any first two cards.
The player may double after splitting.
10 Card Charlie automatically wins, except when the dealer has Blackjack.
See more on Playtech blackjack games and casinos