This six-deck Multi-Hand Blackjack game is found at casinos running on Wager Works software.
Multi-Hand Blackjack (Player's Suite) follows the same rules as Wager Works' "Table Blackjack" except that you can play up to 3 hands simultaneously, and an 8-card hand is an automatic winner (instead of 11 cards).
Game Rules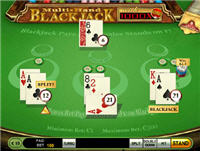 6 decks of standard playing cards, shuffled for each hand of play.
If the Dealer's face up card is an Ace, you are offered Insurance. Insurance, if accepted, is half of the initial wager.
If the Dealer's face up card is a 10-value card, then the Dealer's face down card is also checked, but no Insurance Bet is offered.
Only one split is allowed per hand – resplitting is not allowed.
When Aces are split, only one further card may be dealt to each Ace.
Double down is possible on any two cards.
Player may double-down on either / both initial 2 card hands of a split (except split Aces).
No surrender.
Player may draw a maximum of 8 cards for any hand. An 8-card Player hand whose value does not exceed 21 is an automatic winner.
Dealer must stand on all card value totals of 17 or higher.
The house edge is approximately 0.46% under these rules.
See more on Wager Works blackjack games and casinos